Powerful SAP eForms
---

Processes with manual steps lead to a variety of business problems stemming from process inefficiencies, poor auditability or process compliance and poor data quality.
FLM is Arch's SAP e-forms module, for the delivery of custom SAP e-form processes. FLM enables organisations to automate many processes, removing manual steps and thereby reap a number of benefits:
Process efficiencies. Deliver faster, slicker processes to improve customer service, SLAs and reduce costs.
Better master data quality. Deliver automatic validation rules to check for duplicates and improve data quality, in order to reduce wasted processing time.
Process compliance. Deliver managed processes, tracked at every stage, to ensure visibility, auditability and adherence to standards and deadlines.
Process mobility. Take processes mobile to enable users to get work done on the move and on any device.
Better usability. Provide occasional SAP users a friendly and intuitive interface instead of SAP-delivered tools such as SAPGUI.
Introducing Arch Varo
FLM is the basis for the Arch Adaptive Document Platform, with Varo as the SAP e-forms solution as part of the new enterprise solution.
FLM is still available from Arch as a stand-alone solution for SAP e-forms. FLM customers can upgrade to Varo with no impact to existing processes and forms.
Fast development
Arch FLM provides a platform for the development and management of great SAP e-forms. Any forms-based process can be quickly and simply modeled within the system using traditional and commonly available SAP skills.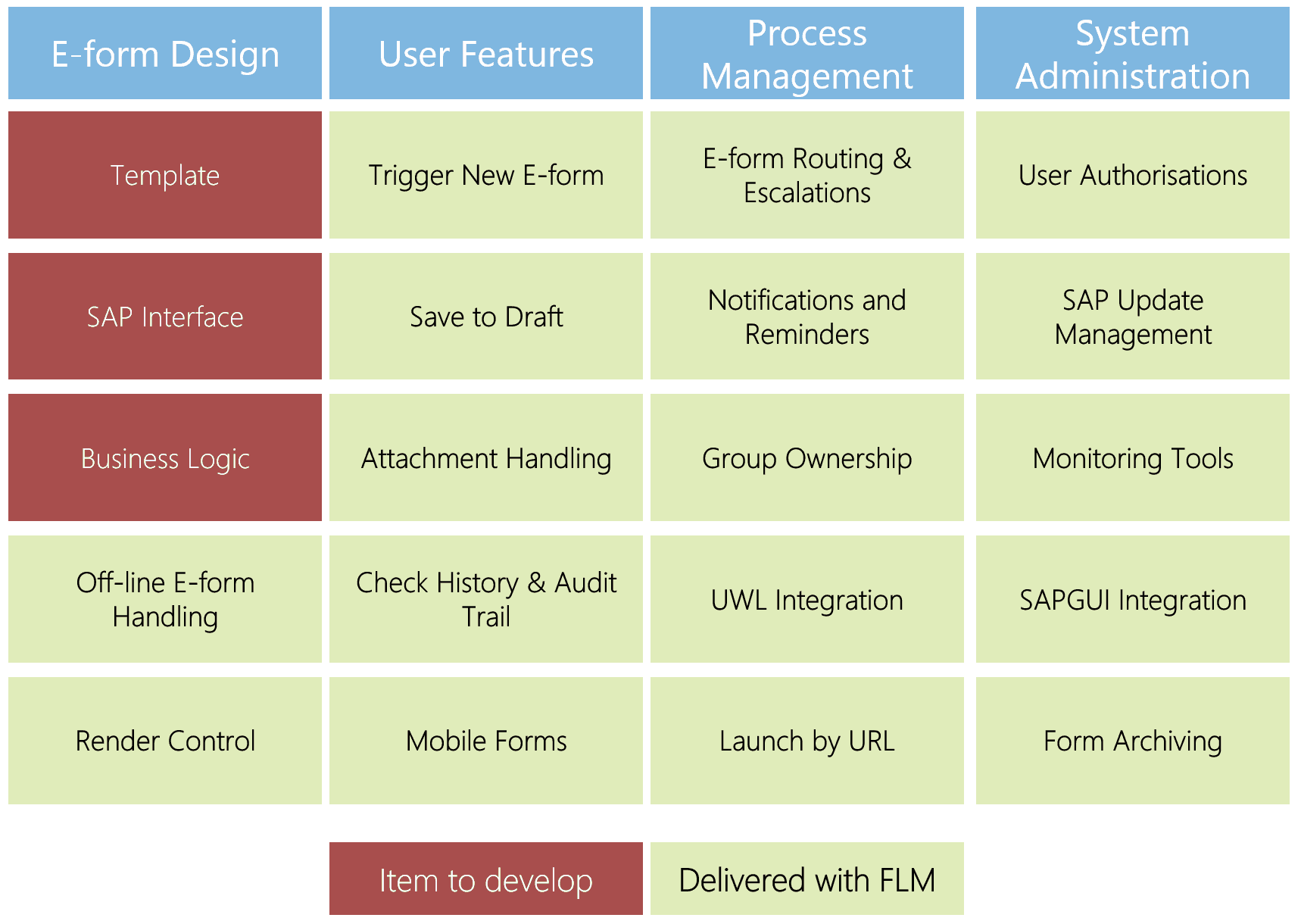 Arch FLM can be integrated with mobile apps, third-party forms and cloud-based solutions as well as PDF and HTML e-forms. Moreover, any process can involve a mix of approaches. With Arch FLM you design the technology around your business requirement, not the other way around.
Since you define your business logic centrally, it is re-used whatever UI is selected. This enables you to reach new user communities and future-proof your process development effort.
Recommended by SAP
FLM is an SAP add-on that is easily installed on the SAP NetWeaver® technology platform. It is certified for SAPNetWeaver and Business Suite on HANA, and we are proud that it is one of only a very few partner solutions to be an SAP-endorsed business solution.
SAP-endorsed business solutions are complementary to SAP® software offerings, have been specifically integrated with SAP solutions and tested by SAP, and provide additional choices and flexibility for businesses running SAP software. SAP-endorsed business solutions are offered by SAP partners.
Download the SAP E-forms "Solution in Detail" to find out more.
More about FLM
What Our Clients Say
FirstEnergy have successfully implemented several complex HR processes using FLM from Arch. Throughout the project, Arch provided first-rate consulting and support. We are now rolling out the FLM solution to more HR processes and into several other business areas.
Mary Beth Schutter, FirstEnergy
A very powerful way to help us extend the use of intuitive forms capabilities and SAP software to staff using multiple environments and devices.
Christian Hauser, Transport for London